One of my favorite little weight loss sayings..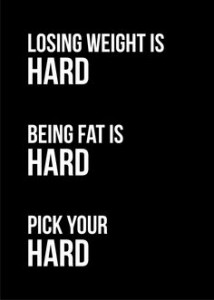 And it is true!
What they left out in there is that maintenance is nearly impossible! I googled a couple years back and the fact is that the deck is stacked against me. Keeping weight off is virtually impossible. A quick search popped up…
I am one of the ones who has failed. I have failed over and over and over again.
But, I also am one of the success stories. I am not at my lowest weight right now. But, I am also not at my highest. A few years back I dropped over 50 pounds. I have kept at least 25 of that off ever since. Right now I am 46 pounds lighter than my heaviest. I am still obese and I am still fighting the battle. But, I have won. And here is a little photographic proof…
I am going to put this up here and leave it for those days that I need a reminder that I am a loser 😉
I think/hope that it's pretty obvious in just my face.